Project Description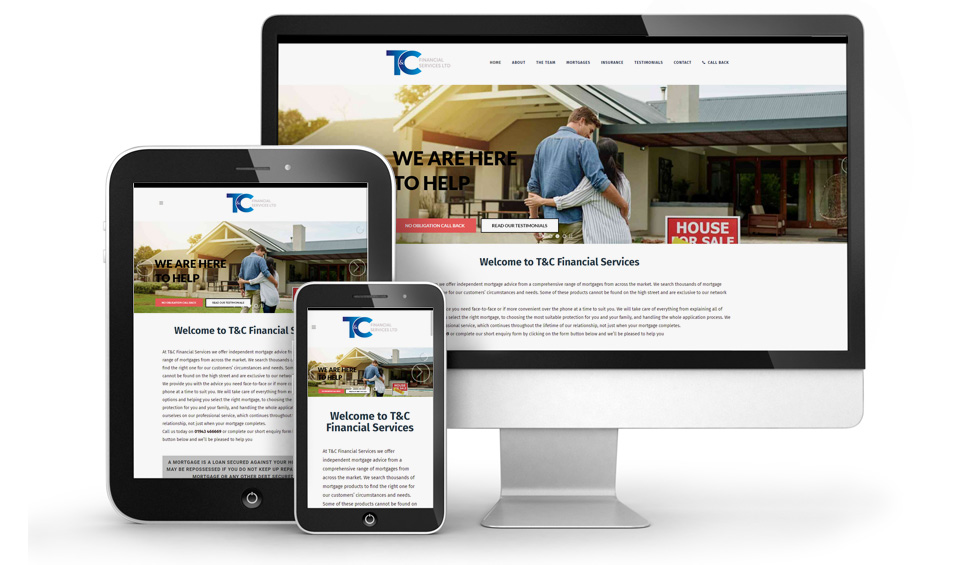 About T&C Financial Services
Based in Otley, West Yorkshire, T&C Financial Services offer independent mortgage advice from a comprehensive range of mortgages across the market. They search thousands of mortgage products to find the right one for their customers' circumstances.
They provide face-face advice, under current meeting restrictions or if more convenient over the phone at a time to suit you. They take care of everything from explaining all of the options to their clients, helping them select the right mortgage as well as the most suitable protection for the clients and their families.
T&C Financial Services pride themselves on their professional service which continues throughout the lifetime of the relationship, not just when the clients' mortgage completes.
Professional Links have gone above and beyond our expectations of quality and service and have delivered a fantastic new corporate website that we are proud to showcase to our clients. I couldn't recommend them highly enough.
Project Detail
T&C Financial Services sought to improve their existing website and after a good look around instructed Professional Links to redevelop the corporate site. Professional Links undertook a thorough audit of the existing site and although their old website had been running reasonably well for a number of years that the site could do with a fresh new makeover to promote their business further and a key point was to make sure the site worked across all devices.
After the initial meeting, Professional Links offered a selection of pre-built solutions for the new site, which would allow for a quick turnaround and minimal cost to T & C Financial Services. Professional Links also recognised that the T & C needed the ability to update their own site when required and therefore proposed WordPress as the ideal platform for their new site.
Once a theme had been selected, Professional Links then began working on the site on their development server, allowing the T & C to review the new solution being created day-by-day.
The project aim was to produce a fresh, new solution for the client, which adhered to a responsive framework allowing the site to adapt its layout depending on the user's chosen device whether desktop, tablet, or mobile.
Simple multi-layered navigation was essential to allow viewers to reach the desired pages quickly, all of which can be amended by the client within their own control panel.
Throughout the build, great emphasis was placed on ensuring that the website was not only informative, but converted traffic into enquiries, and this was achieved by ensuring effective call to action points & online forms were present throughout the site.
The client was continually involved in the redevelopment process from start to finish until the site was launched.
Get in touch with the Professional Leads Team
If you are considering a new website for your business then we want to hear from you. Fill in our simple form below and let one of our team get in touch with you to discuss your requirements.